Reduced price
Limited edition
Banana Shake
Braided cord
3mm
100m/108yds
Measurements

| | |
| --- | --- |
| Width | 3mm |
| Length | 100m/108yds |
| Weight | ~250g |
Composition
100% recycled cottonbraided cordcotton filling
Tool size

Exotic and joyful – this is our Banana Shake! Yellow shade of holidays under palm trees will add to your projects some paradise vibe.
Bobbiny Junior Braided Cord is a pure delicacy.
If you are taking your first steps in knitting or macramé, this product is perfect for you!
Junior Cord is the perfect choice for those looking for a light effect. The fine diameter of 3mm allows you to create subtle accessories and homeware for your interiors.
Perfect for light handbags, backpacks, key rings, but also coasters and pillows.
To achieve a regular pattern, use a 6mm crochet hook or needle. For looser eyelets, we recommend slightly larger tools, e.g. 8-10mm.
Attention! This cord cannot be combed out. You can, however, add cord fringes or tassels made with a 3mm macramé cord of the same color.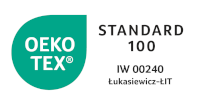 This product has been granted authorization according to STANDARD 100 by OEKO-TEX. This means that it has been tested at every stage of production and does not contain substances harmful to health. It can be safely used, even in products for infants and people with allergies.
The certificate guarantees that the products labeled with it are free of harmful substances, including pesticides, allergenic dyes, and heavy metals.
OEKO-TEX - Learn more
Braided cord
9mm 100m/108yds