Pastel Pink
Braided cord
5mm
100m/108yds
Measurements

| | |
| --- | --- |
| Width | 5mm |
| Length | 100m/108yds |
| Weight | ~500g |
Composition
100% recycled cottonbraided cordcotton filling
Tool size

Pastel, subtle shade of pink.
It looks beautiful in combination with Blush or Blossom color.
It has a delicious look that reminds of marshmallows or cotton candy. Perfect for creating children's accessories, but it will also appeal to the hearts of adults ; )


Premium Braided Cord is a product for special tasks.
It is perfect for knitting, macramé, weaving and many other handicraft techniques.
Thanks to its braided structure, it will be perfect for both beginners and advanced users.
Its 5mm diameter allows you to create your dream project quickly.
Thanks to it, you can create many different interior design elements, such as carpets, baskets or macramé.
It is universal. You can create any design out of it.
We recommend using an 8-10mm crochet hook or needles for knitting. Tight stitches can be achieved with a smaller tool and looser ones with a larger tool.
Attention! This cord cannot be brushed out. You can, however, add macramé cord fringes and tassels 5mm of the same color.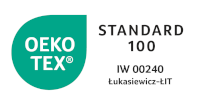 This product has been granted authorization according to STANDARD 100 by OEKO-TEX. This means that it has been tested at every stage of production and does not contain substances harmful to health. It can be safely used, even in products for infants and people with allergies.
The certificate guarantees that the products labeled with it are free of harmful substances, including pesticides, allergenic dyes, and heavy metals.
OEKO-TEX - Learn more
Braided cord
3mm 100m/108yds
Reduced price
Limited edition
Braided cord
5mm 100m/108yds